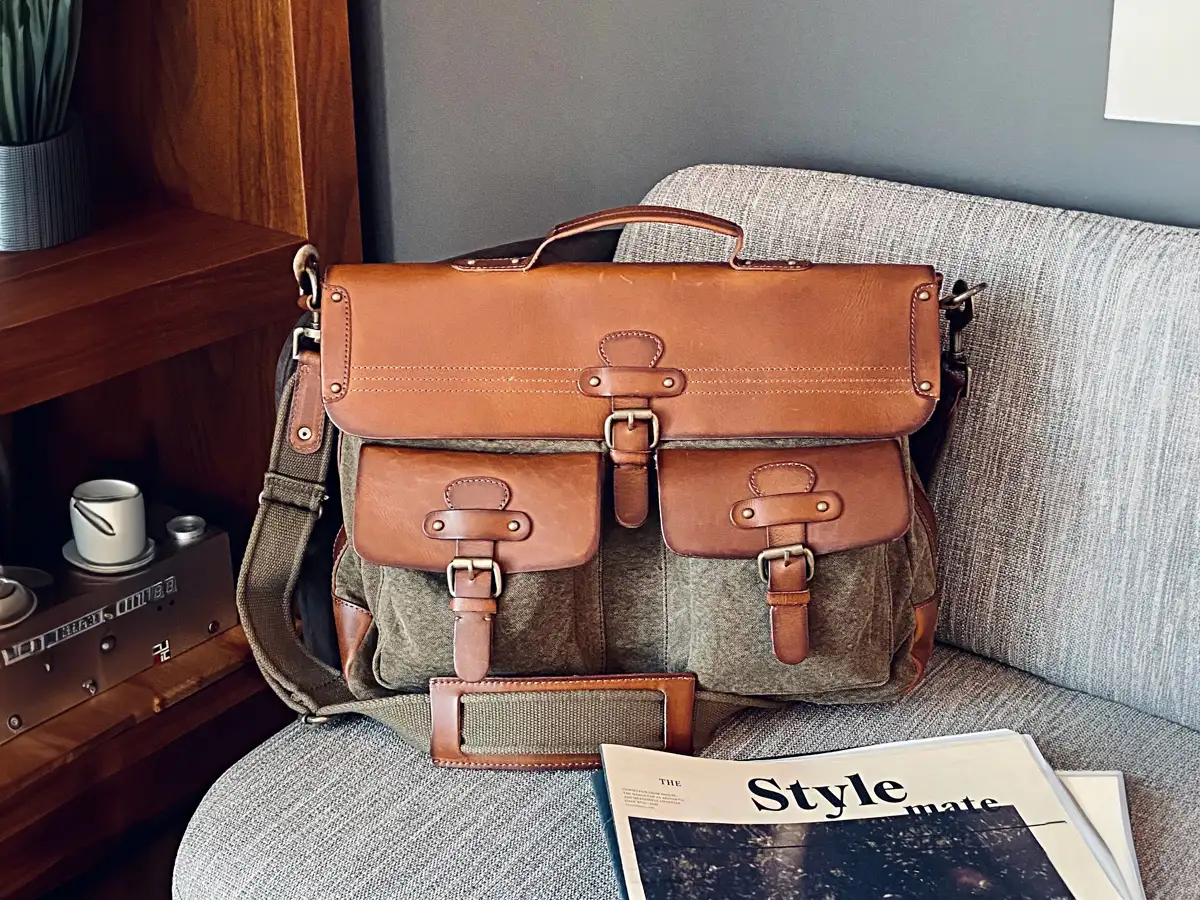 The shoulder bag made of canvas and leather, unique and individual
Our men's shoulder bags made of canvas and leather are not just an understatement but a commitment to the 19th-century style when travelers were still adventurers. And you don't have to sacrifice practical details like a laptop compartment or storage pockets. These are fashion statements for true everyday heroes.
What is a Shoulder Bag?
A men's shoulder bag, also known as a crossbody bag, is a type of bag that is hung over the shoulder and worn diagonally across the upper body. A shoulder bag for both men and women features a longer shoulder strap that allows the bag to be comfortably worn at the side or in front of the body. Shoulder bags come in various sizes, styles, and materials and are often used for daily use to store personal items such as a wallet, phone, keys, notebook, and other small items. Shoulder bags are popular because they are practical and keep your hands free while on the go. They come in a variety of fashionable designs and shapes and are favored by people of all ages.
The shoulder bag has a long history, with its use dating back to early civilizations. In many cultures, leather pouches or bags were worn on straps over the shoulder to carry personal items. These early shoulder bags were often made from simple materials such as leather, fabric, or animal hide.
Over time, shoulder bags evolved and adapted to the needs and fashion trends of different eras. In the 20th century, shoulder bags, especially in the form of messenger bags, gained popularity among couriers and messengers as they provided a practical way to transport documents and messages. These bags were functional and durable to meet the demands of urban life.
In the 1960s and 1970s, shoulder bags became a symbol of the hippie and counterculture movements. They were often adorned with embroidery, fringes, and ethnic patterns, reflecting the informal and casual style of the time.
Since then, the shoulder bag has become a versatile accessory worn by people of all ages and genders. It is produced in a wide range of styles, materials, and sizes, offering both practicality and fashion. A men's shoulder bag is now a staple of the modern everyday wardrobe and is used for various occasions, from work to leisure.
Why is Canvas a Good Material for a Men's Shoulder Bag?
Genuine canvas is a tightly woven cotton fabric with a weight of approximately 8oz or 225g/m². This fabric was historically used in maritime settings for sails (canvas) and in industries for workwear and leather goods. Canvas is also popular in painting, as almost all famous paintings in the world have been painted on canvas. Hence, "canvas" is another term for "canvas." Canvas has also been essential in the early days of cinema, serving as an ideal projection surface. Unfortunately, canvas was eventually replaced by plastics in many applications. Particularly in the leather goods industry, there are many products labeled as canvas handbags that are actually made from plastic materials. Genuine canvas is made from 100% cotton.
For our range of shoulder bags for both men and women, we exclusively use genuine cotton canvas. This choice is rooted in tradition, sustainability, and formal aesthetics. Our cotton fabrics weigh 16oz or approximately 450g/m². Additionally, our canvas is hand-dyed and washed to achieve the authentic DRAKENSBERG vintage look. Canvas bags are sturdy and sustainable companions with a long lifespan.
Is Leather a Good Choice for a Men's Shoulder Bag?
Leather is an excellent choice for a men's shoulder bag for several reasons. It boasts durability, often developing a distinctive patina over time, and well-maintained leather can last for years. The elegance of leather gives men's shoulder bags a stylish and timeless look that works well in both formal and informal settings. Leather also provides protection against scratches, moisture, and light impacts and can be comfortable to carry as it softens over time and molds to the body.
Particularly worth highlighting is the significance of high-quality buffalo leather. This premium leather offers exceptional durability and resistance. In contrast to inferior leather or synthetic leather, full-grain buffalo leather retains its quality and appearance over an extended period. Therefore, choosing solid leather for a men's shoulder bag is a worthwhile investment, guaranteeing a durable, stylish, and high-quality accessory for daily use. However, leather care requires special attention to maintain its quality and protect it from drying out and cracking.
How to Wear a Men's Shoulder Bag Effectively?
A shoulder bag for men can be worn over the shoulder with a strap or diagonally across the shoulder. We recommend wearing shoulder bags from our collection diagonally across the shoulder, as this distributes the weight of the bag better. It becomes less strenuous when carrying the bag over the shoulder for longer distances. In general, it's advisable to switch sides when wearing the bag for extended periods to evenly distribute the load and provide relief to the back and spine.
In addition, shoulder bags should not be overly filled. Before embarking on a journey or heading to work, it's advisable to assess which items are truly needed for the day. This practice helps to protect your back and the bag's material.
What's the Difference Between a Shoulder Bag and Hand Bag for Men?
The term "hand bag" is a collective term for all bags that can be worn over the shoulder using a strap or belt. Alternatively, "shoulder bag" can be used interchangeably with "hand bag." Shoulder bags for men that are worn diagonally or "cross-body" are often referred to as "cross-body bags" or "across-body bags."
Which Side Should You Wear Shoulder Bags On?
It primarily depends on personal habits and preferences. It's best to consider whether you are right- or left-handed. For right-handed individuals, it's advantageous to wear the leather shoulder bag on the left side, and vice versa. This allows for more convenient access to items within the bag. For longer distances, it's recommended to switch sides regularly to alleviate strain on the back and neck.
What are Typical Shoulder Bags for Women?
Typical women's shoulder bags come in a variety of designs, shapes, and proportions to cater to different needs and preferences. Here are some popular types of shoulder bags for women:
Crossbody Bags:
These items have a longer shoulder strap that runs diagonally across the upper body. Crossbody bags are versatile and ideal for everyday use or leisure, as they provide enough space for essential items and accessories.
Hobo Bags:
A hobo bag has a loose, sack-like shape and is often made from soft material. It offers sufficient space and is roomy enough to hold a wallet, keys, phone, notebook, accessories, and other everyday items. Ideal for the office or shopping for small errands.
Shoulder Bags:
Shoulder bags have a longer shoulder strap and can be comfortably worn over the shoulder. They are often spacious and suitable for everyday use. Shoulder bags come in various sizes, with popular models including the hunting bag or buckle bag.
What are Typical Shoulder Bags for Men?
Similar to women, there is a variety of shoulder bags available for men in different styles and designs that cater to different needs and preferences. Here are some typical types of shoulder bags for men:
Messenger Bags:
This classic men's shoulder bag has its origins in courier and messenger work. The men's messenger bag is often spacious enough to carry important documents, laptops, or books. It features a large flap that is placed over the front of the bag. This flap can be secured with various closures such as buckles, snaps, or Velcro to protect the bag's contents.
Shoulder Bags with Laptop Compartment:
Specially designed men's shoulder bag with a laptop compartment that safely and conveniently transports laptops. The men's laptop bag features additional compartments and often offers extra storage space for accessories such as chargers, accessories, cables, and notebooks.
Briefcases:
Rectangular, slim men's shoulder bag or handbag, often made from leather or another durable material. This type of bag features a lid or flap that can be secured with buckles or closures to protect its contents. The men's briefcase is a classic accessory often used by professionals for the office to stylishly carry documents, files, paperwork, laptops, and other business necessities.
Modern fanny packs and shoulder backpacks are also considered shoulder bags for men as they serve similar functions as traditional shoulder bags and can be worn similarly.
What is the Best Brand for Men's Shoulder Bags?
The shoulder bags and products from DRAKENSBERG are anything but ordinary. Sustainability is not just a buzzword for us; it's an integral part of our design philosophy. We're all about authentic everyday companions that could have been crafted similarly even 200 years ago – using natural materials like pure cotton, full-grain, vegetable-tanned leather, and YKK zippers.
Currently, there is no leading handbag brand that could serve as a role model for us. Even established brands continue to rely on traditional chrome tanning and alter the leather surfaces. A widespread practice in the industry is also the use of plastic lamination, which increases leather thickness with foam.
Under the term "vegan leather," conventional plastic is often hidden. Rarely do you find leather-like materials that are actually made from 100% plant-based sources. Even the term "natural leather" is unfortunately overused today. Leather that is reinforced with foam does not meet our definition of "natural leather" but is rather inferior leather.
In the 21st century, a high-quality shoulder bag should convey a sincere and positive feeling, without making hollow promises. At DRAKENSBERG, we largely avoid the use of plastics. Our leather and canvas are not coated with plastic. Our materials do not contain nylon or polyester. The leather we use is sustainably vegetable-tanned, even though not entirely without chrome. Our collection features only models with character and authenticity – loyal companions for life.