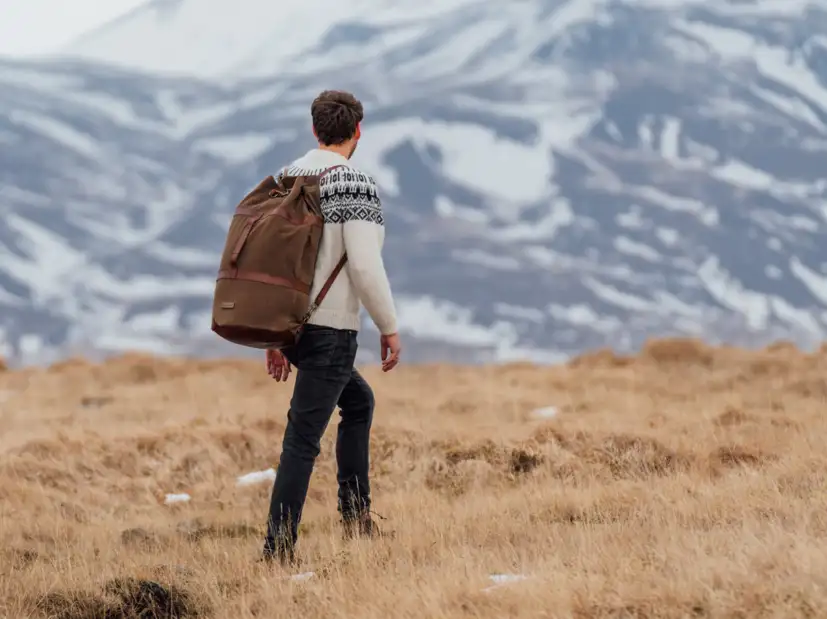 Sea bags with backpack function in original duffel design
Our sea bags are inspired by the iconic maritime duffel-style sailor bag and traditionally handcrafted. The particularly authentic vintage look of our bags is achieved through the use of full-grain leather and cotton canvas. Genuine originals made for real world travels.
What is a Sea Bag?
A Sea Bag is a large travel bag with backpack function, typically made of coarse canvas, often in combination with leather. Sea Bags, also known as "Trosssack," are still used today by the Bundeswehr, police, and especially the navy, for transporting and storing the personal equipment of personnel. The emphasis is less on high carrying comfort and more on simply stowing larger amounts of clothing and personal items for longer ship passages.
The sailor bag was first historically mentioned in the 18th century in the Belgian town of Duffel near Antwerp, which was world-famous for sailcloth (canvas) and coats made of sturdy wool fabrics at that time. To this day, the classic Sea Bag or similar travel bags are called "Duffel Bag" or "Duffle" in English usage.
What sets DRAKENSBERG Sea Bags apart?
We base the design of our products on historical models from the 19th century. When creating our Sea Bags made of canvas and leather, we have stayed as close to the originals as possible. This means that we primarily use cotton and full-grain buffalo leather for the construction. For aesthetic reasons, we largely avoid the use of plastic.
Is a Sea Bag suitable for women as well?
Yes, a vintage Sea Bag made of canvas and leather is definitely suitable for women! Sea Bags are gender-neutral bags that can be carried by all genders. They are versatile, functional, and stylish, making them a popular choice for women as well as men.
Most of our models are available in various sizes and designs, including those with "feminine" colors and details that may appeal to women.
Sea Bags offer women a practical way to carry their personal belongings stylishly and comfortably, whether for daily use, outings, outdoor activities, or other occasions. They are spacious enough to hold all the essentials, and the sturdy straps allow for comfortable shoulder or hand carrying.
What are the advantages of a Sea Bag for travel?
The greatest advantage of Sea Bags is their low weight relative to their packing volume. The second major advantage is their ability to be compressed. Especially on leisure boats or in small cars, storage space is often limited. Sea Bags can be compressed relatively well, giving in to the shape and thus helping to optimize small storage spaces.
What can I use a Sea Bag for?
Travel and Adventure:
Sea Bags are ideal for travel, camping trips, hikes, and other adventures. They provide enough space to store clothes, sleeping bags, snacks, and other equipment.
Sports and Fitness:
Sea Bags are large enough to carry sportswear, shoes, and other sports equipment. They are practical for going to the gym, yoga classes, or other athletic activities.
Shopping and Market Visits:
The bag can also be used as an environmentally friendly alternative to plastic bags. It provides enough space for groceries, shopping, or products from the farmer's market.
As a Beach Bag:
They are perfect for beach and pool days, allowing you to stylishly and safely transport towels, sunscreen, beach toys, and other beach essentials.
Work and Profession:
Some people also use sailor bags for work or their profession to transport work clothes, equipment, and personal belongings in a practical way.
Are DRAKENSBERG canvas Sea Bags waterproof?
Our model "Dale" is made of waxed cotton and is therefore water-repellent. Additionally, the roll-top design prevents water from entering.
Our Sea Bag "Robin," made of leather and cotton, is not waterproof in its standard version. We intentionally produce this design without impregnation for optical and aesthetic reasons.
However, all our canvas and leather bags can be relatively easily impregnated. Colorless impregnating sprays for leather and textiles, such as IMPRÄGNOL Universal Impregnating Spray, are suitable for this purpose. Alternatively, our canvas can be treated with wax, for example, Dr. Gee's Impregnating Wax. We recommend testing the wax according to the instructions in an inconspicuous area before treating the entire fabric of the bag. Please note that the color is usually slightly darker after impregnating wax treatment.
What sizes and categories are available for Sea Bags?
Currently, we offer items in sizes ranging from 52-65cm (height) with a capacity of 40-60 liters. We currently offer models in 2 categories:
Classic Duffle Design in Sizes - Model "Robin" (M) 40 Liters and (L) 60 Liters Capacity
With Genuine Backpack Function and Water-Resistant - Model "Dale" with 60 Liters Capacity
How do I carry a Sea Bag?
A Sea Bag made of canvas and leather can be carried in various ways. Our models come with an adjustable carrying strap, allowing you to carry it comfortably over the shoulder or use it as a backpack. Our "Robin" model also has a hand-carry handle on top. It is important to distribute the weight evenly and adjust the straps as needed to ensure comfortable carrying.