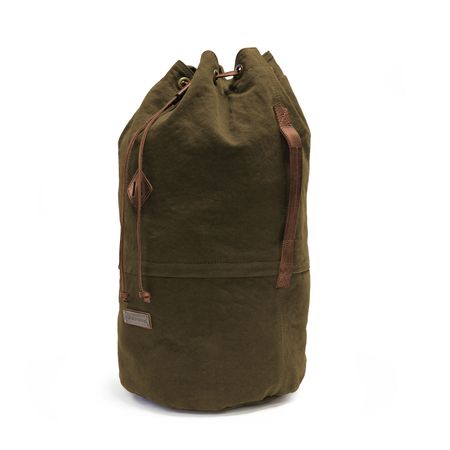 Archetype of the maritime duffel bag made of canvas and leather in authentic vintage design
Handmade from genuine buffalo leather and pure cotton canvas
Can be carried like a rucksack with 2 shoulder straps
2 exterior zip compartments on the sides for valuables
Offer includes: 1 sea bag and 1 dust bag
Archetype of the maritime duffel bag made of canvas and leather in authentic vintage design
Handmade from genuine buffalo leather and pure cotton canvas
Can be carried like a rucksack with 2 shoulder straps
2 exterior zip compartments on the sides for valuables
Offer includes: 1 sea bag and 1 dust bag
€ 89.00
*
Unit price
€89.00 / piece
Immediate dispatch - delivery Time 2-3 days *
Dimensions in cm (HxLxW):

Light canvas duffel or sea bag with leather trim, green, 40l, handmade
Material
Exterior material: Canvas (cotton) and full grain buffalo leather (vegetal tanned)
Interior material: Cotton, buffalo leather trim (vegetal tanned)
Metal parts: Brass
About the product
Until the early 20th century, seafaring was the only real option for long-distance travel. Even the exploration of our earth would probably have been unthinkable without seafaring. Ship names like Endeavour, Victoria or Santa Maria will probably stand for the greatest ventures in human history, forever. Like no other piece of luggage, the duffel bag is a symbol of this spirit of discovery and heroism. 
Traveling with light luggage is the idea behind this compact sea bag. Despite its light weight, we have not given up on practical details. The bag has a large, easily accessible outer pocket and a small pocket inside for valuables. The hand luggage-compatible kit bag holds clothes for 3 days of travel or even more.
The duffel bag has a high-quality finish. All important friction points are trimmed with leather. All load points are additionally reinforced. 
Our Story
We are Daniel and Christoph and live our dream. We founded DRAKENSBERG because we want to inspire people to recognize the true value of travel and to strive for it.
To understand the path as the true goal and to grow on it. A good journey means learning. About life and about yourself. We know that a good journey can change a whole life. Our travel bags are silent reminders of the travel spirit of the 19th and 20th century, when traveling was still an adventure and travelers were adventurers.
Handmade
Maybe you have already noticed, our bags are different. Each product is an elaborately manufactured unique piece with its own little story. The bags are almost completely handmade. We only use high quality leather and natural materials. Paying attention to sustainability and environment.
Leather is a natural material and can have small irregularities. Each leather product is also patinated by hand. This elaborate process makes our products trademarked. No bag can be exactly same as another. Thus, small colour deviations are unfortunately unavoidable and are not a sign of poor quality, but uniqueness.
---
FAQs: Frequently asked questions about our
Light Duffel Bag - green
Item reviews ()
---
---
Loading reviews...
Do you really want to delete?